Entry Information
Race packs, including t-shirts, bibs, safety pins and timing chips, will be posted to all runners in the weeks before the event.

Entries are non-refundable and non-transferrable. NO ENTRIES ON THE DAY.
After entries close, places will only be available from our charity partners. Please contact them directly for more information.

Runners must be 17 years of age or older on race day to take part in the Bon Accord Glass Half Marathon.

Run for Charity
Our official charity partners have guaranteed places in the Bon Accord Glass Half Marathon.
If you'd like to run for:
* CLAN
* Charlie House
* Inspire PTL
* Friends of the Neonatal Unit
* Chest, Heart & Stroke Scotland
* The ARCHIE Foundation

Please get in touch with them directly to receive their training and fundraising support.
Contact details for all our charities are available on our Partners page.
Prices
All runners: £24.50 + £1.50 service charge
RACE CAPACITY: 650

Race Day Timings
TBC Bon Accord Glass Half Marathon Call-up
TBC Bon Accord Glass Half Marathon Race
TBC Bon Accord Glass Half Marathon Prizegiving
Prizes
Visit the prizes page for a full list of prizes.
Mile Markers & Water Stops
There will be ascending mile marks on the course.
There will be three water stops on the route, at approximately 4 (Bernhervie), 6.5 (before Chapel of Garioch) and 10.5 miles (Dubstone), stocked with water in paper cups, sponsored by Fisher Offshore of Oldmeldrum.
There will also be water available at the Finish.
Time Limit
Please note the Bon Accord Glass Half Marathon course may not be supported after three hours.
The Route
The Bon Accord Glass Half Marathon will share the same route as the 10K until the turn-off at Polinar Dam. At that point, Bon Accord Glass Half Marathon runners will take a left towards Burnhervie. They will then proceed to Chapel of Garioch, enjoying spectacular views of Bennachie along the way. A short downhill section then follows, before the now infamous climb at Dubstone. After Dubstone, runners will continue down Blackhall Road until taking a left at John Sorrie Drive. They will follow John Sorrie Drive all the way around until they return to Blackhall Road, take a left at the roundabout and return directly to the Garioch Sports Centre via the underpass and Burghmuir Drive.

Map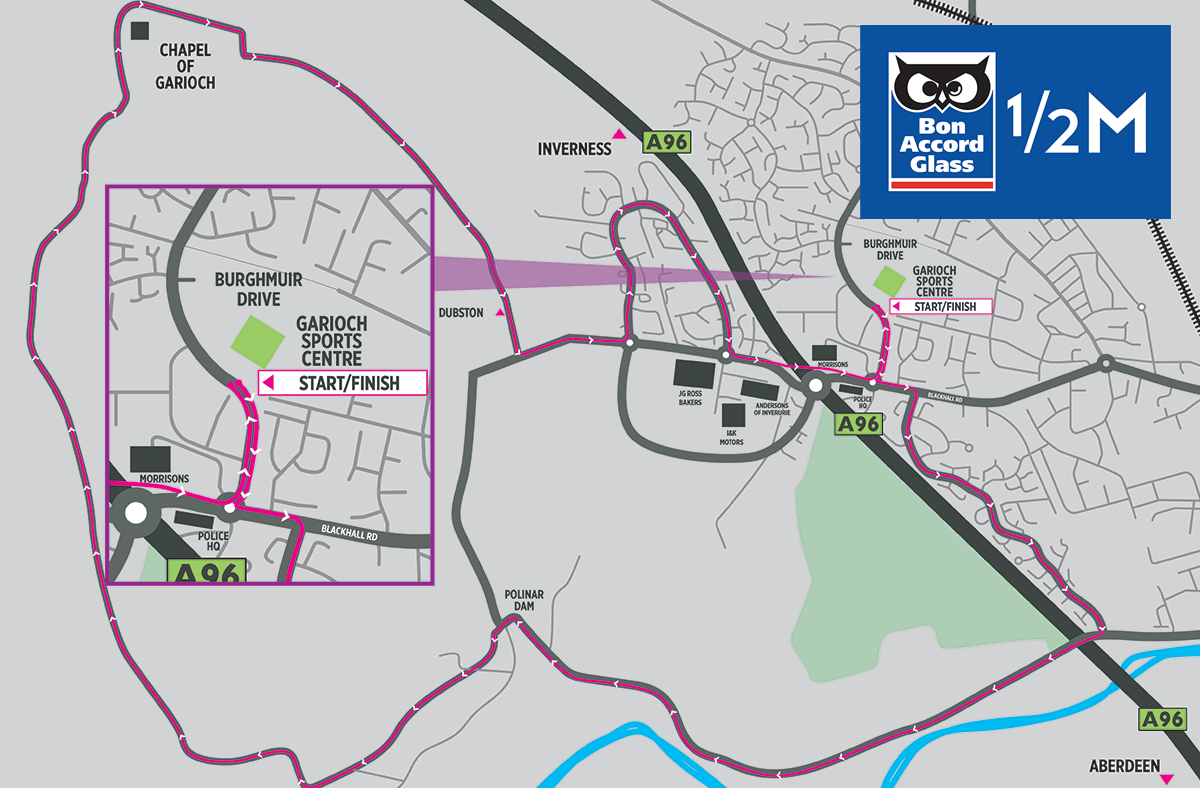 Click to enlarge